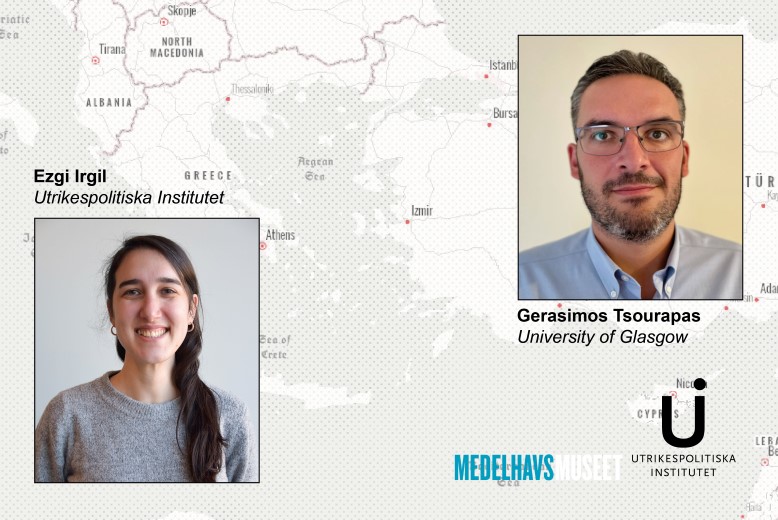 Behind the headlines: Migration diplomacy and the 2023 elections in Greece and Turkey
The Swedish Institute of International Affairs (UI) and the National Museums of World Culture invited you to a conversation about migration diplomacy in Greece and Turkey.
Since 2011, when the first wave of Syrian refugees arrived in Turkey, the country has received around four million Syrians. The large number of refugees has affected both domestic politics and the country's international relations. In 2016, the EU and Turkey signed an agreement under which Turkey accepts refugees in exchange for EU financial aid, which has further changed the political dynamics in the region.
In this event, Dr. Gerasimos Tsourapas discussed migration diplomacy and analysed the border crisis that occurred between Greece and Turkey in March 2020. How does a large number of refugees affect domestic and foreign policy? In the context of the Syrian refugee crisis, how have they affected refugee host states' bilateral relations? How can we analyse the role of refugees in local, national, and international political arenas? The discussion provided insights into how such a framework can shed valuable light on border crises, and the importance of forced migration in shaping the two countries' 2023 national elections.
Participants:
Gerasimos Tsourapas, Senior lecturer at University of Glasgow
Ezgi Irgil, SFP-research fellow at the Programme on global politics and security, Swedish institute of international affairs
This seminar is part of the seminar series "Behind the headlines" that we arrange together with the National Museums of World Culture, aiming at a deeper understanding of current events.