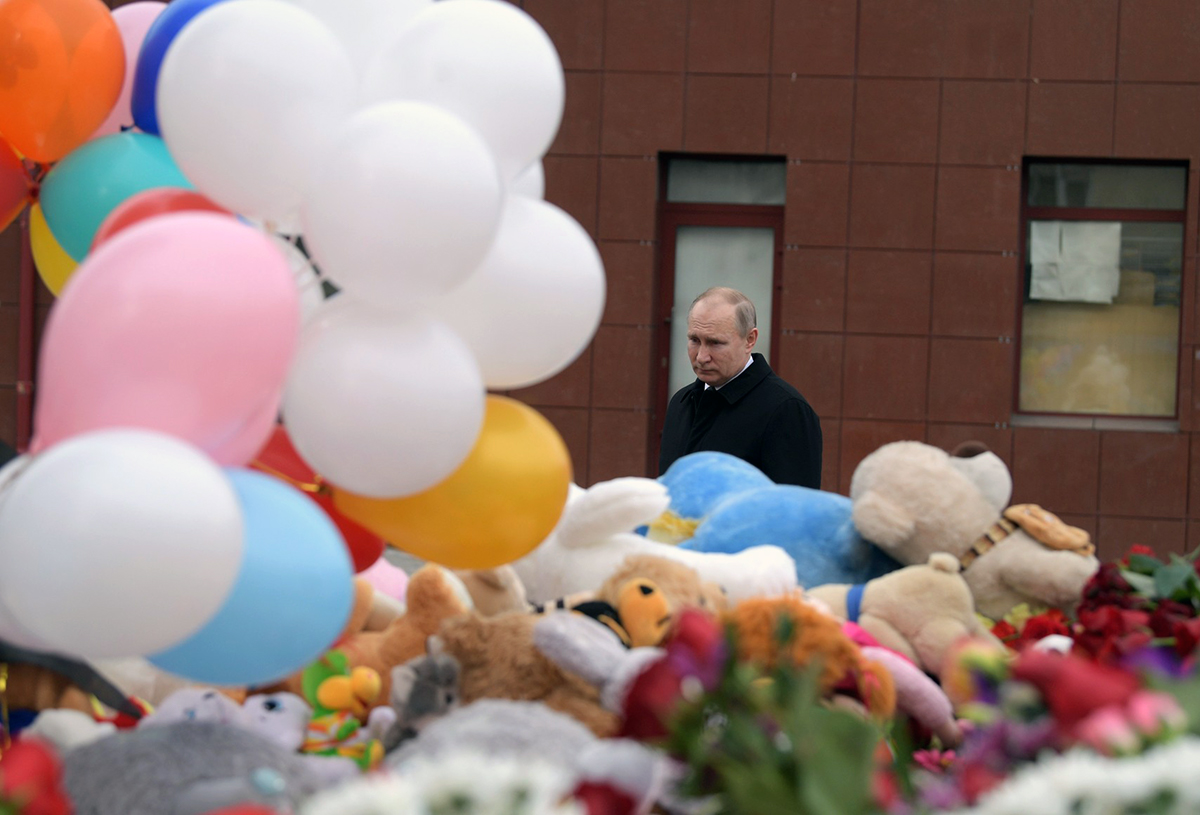 Vladimir Putin – a tsar without loyal subjects?
Analysis. President Vladimir Putin is commonly described as a modern-day Tsar of Russia. In his public appearances, he often acts as a tsar-benefactor of ordinary Russians who does everything possible to strengthen the nation and to protect it from internal turmoil and external threats. However, do Russian people see him as a tsar? UI research fellow Natalia Mamonova answers this question by analysing popular attitudes to Putin and his tsarist behaviour.
Publicerad: 2018-04-23
The image of a "good and fair Tsar" – a strong, sometimes even harsh father of the nation – is commonly used by Vladimir Putin to justify his authoritarian governance and to generate domestic support for his policies. In his public appearances on Russian television, Putin often acts as a benefactor of ordinary Russians who does everything possible to strengthen the nation and to protect it from internal turmoil and external threats. This strategy seems to be working well – Putin has been enjoying high approval ratings for many years, and has recently won the presidential elections for the fourth time. However, what is behind the popular support for Putin and do ordinary Russians see him as a tsar?
"Don't call me tsar"
In one of his interviews with journalists, Putin mentioned that he does not think that the nickname "tsar" fits him. However, this nickname became firmly attached to him. Today, not only Western experts call Putin "the tsar", but also Russian citizens occasionally refer to him as such.
By calling Putin a 21st-century tsar, opposition-minded Russians criticise the president for his authoritarian governance and long time in office. For example, during last year's "Direct Line with Vladimir Putin" – an annual question and answer TV show – someone wrote the following e-message to the president, which was displayed on the screen: "All of Russia thinks you have sat too long on your throne".
At the same time, Russians who are generally in favour of Putin also ironically call him a "tsar", albeit with somewhat different intensions. They use the word "tsar" either to jokily comment on Putin's appearance on TV: "look, the Tsar is speaking…" or to criticise lower authorities: "nothing is done before the Tsar intervenes". In this case, their irony and sarcasm are not necessarily directed at the president, but rather at the contemporary system of power relations. The old adage "a good tsar – bad boyars [noblemen]" is now used by many Russians to describe the existing order in their country.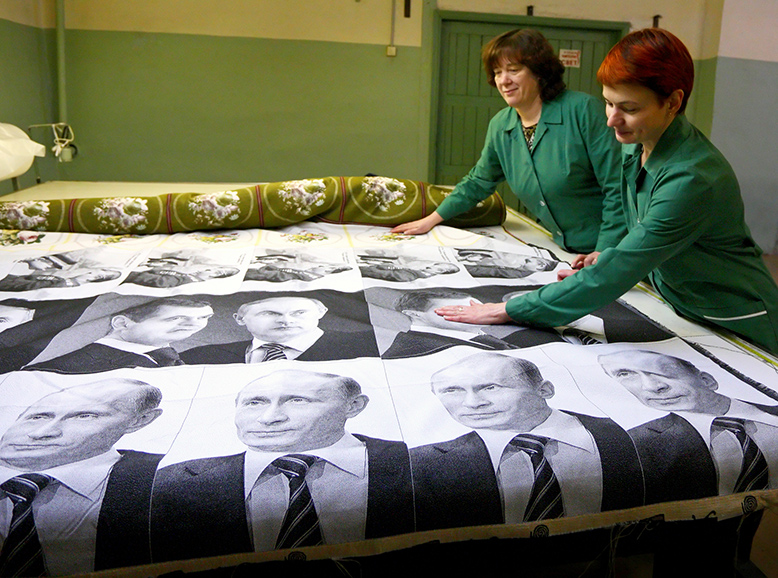 Uzor weaving plant in Vyritsa. Photo: Shutterstock
Naïve monarchist belief in a just president and evil officials
The belief in a good tsar and bad boyars is known in Russian history as naïve monarchism. This myth was the backbone of the Tsarist regime, contributing to the regime's persistence for many years. It portrayed the tsar as a just and benevolent intercessor of ordinary people, whereas all failures were ascribed to officials, who deliberately misrepresented and misinformed the country's leader.
This myth was personally maintained by the tsar to secure his authority and existing order. Symbolic acts such as standing godfather to the child of a poor peasant or public instances of humiliating or executing arrogant nobles and officials were practiced by many Russian tsars, including Ivan the Terrible and Peter the Great.
Peasants, in their turn, expressed reverence and devotion to the tsar and asked for his patronage and intervention in their disputes with local powerholders. Some of them truly believed in a good tsar and evil boyars. However, many people purposefully employed this myth in their grievances. By demonstrating their naively and misguided loyalty to the tsar, peasants obtained significant immunity from prosecution and managed to defy noblemen and reduce tributes and taxes.
The relations between Putin and ordinary Russians largely follow naïve monarchist principles. During his official visits to the regions, Putin often meets with ordinary Russians, listens to their complaints, and promises to punish misbehaving officials and local elites. Although these meetings are rare and primarily staged, they still provide ordinary Russians with a means to address their problems.
People certainly do understand their roles in this play. After one of these meetings with Putin in Kurgan – an industrial city in Central Russia – a local resident commented: "We are khodoki [peasant delegates] appealing to the tsar. I know you are supposed to call Putin the President or Prime Minister these days. But to us, he is the Tsar. Not much has changed".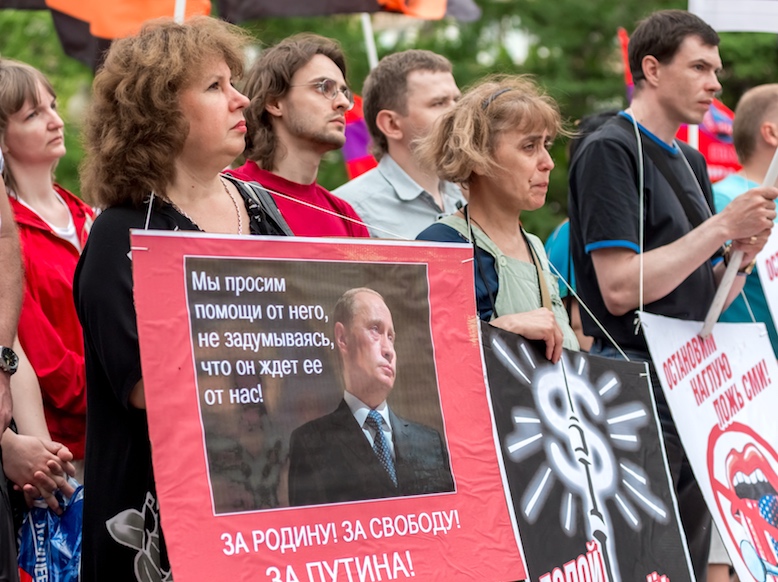 Pro-Putin meeting in Moscow. Photo: Shutterstock
Between genuine and feigned loyalty
The fact that Russian people call Putin a tsar and appeal to him as such does not automatically mean that they actually see him as their tsar. In my recent study of naïve monarchist behaviour of contemporary rural Russians, I revealed that some people do believe in the myth of a just president and evil officials. However, the majority of Russians are under no illusion that their president is free of blame. Nevertheless, they chose to support this myth and behave accordingly.
An open political protest can be very dangerous in authoritarian regimes, such as in Russia. Political activists are chased, attacked, and even assassinated. Meanwhile, a protest in the name of Putin is a relatively safe means to remedy local injustices. People write petitions to the president and organise pro-Putin demonstrations to attract public attention to their problems and to threaten local authorities with a potential presidential intervention.
The recent protest in the small town of Volokolamsk is one of many examples. There, hundreds of people took to the streets to demand a closure of a local landfill that had been releasing toxic fumes. On their posters, they wrote "Putin, help!" and "Dear President, we beg you to help us to close down this landfill". Such pleas to the president are not the demonstration of people's loyalty to Putin. In private conversations, protesters are very critical to the president and his policies. However, in their public appeals, people use rhetoric and myths of the regime to avoid accusations of political opposition and make the system accountable for its obligations.
The electoral support for Putin is also not necessarily related to Russian people's loyalty to their president. Certainly, there is a great deal of propaganda that contributes to Putin's popularity among the ordinary people. However, according to a recent public opinion poll by Levada-Centre, 55 percent of Russians vote for Putin because they do not see any viable alternatives. Real political opposition leaders are banned from participating in elections, while other politicians are unable to generate electoral support among Russian citizens.
Putin is free of blame but responsible for everything
The naïve monarchist myth helps Putin to ascribe all failures to corrupt elites and officials, thereby preserving his image of a just and benevolent president. However, this myth has another side: by positioning himself as the father of the nation, who stands above all authorities and institutions, Putin automatically becomes responsible for everything that goes on in the country.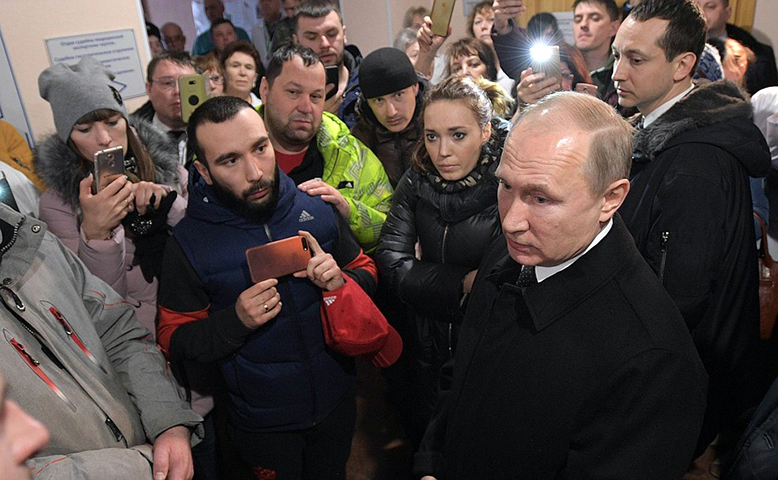 President Putin meets local activists and family members of those killed and injured in the fire in Kemerovo. Photo: Kremlin.ru
Therefore, any local dissent has the potential to become a political protest. By appealing to the president, the Volokolamsk protesters made their apolitical problem very political. Likewise, the people protesting in the Siberian city of Kemerovo – where a shopping mall fire claimed the lives of more than 60 people – demanded that Putin come to them and answer their questions. Certainly, the president is not responsible for the fire or for the toxic landfill, but he created a top-down power structure that makes governmental institutions completely inefficient in solving problems without presidential intervention.
Tragic cases such as Kemerovo and Volokolamsk are very dangerous to the existing regime, as they could prompt ordinary people to abandon the naïve monarchist rhetoric and speak their minds. Being afraid of this, Putin did not meet the protesters; his public appearance in these moments would have endangered the myth of a benevolent president-protector of ordinary Russians, and thus, the basic principles of his regime itself.
Historians argue that naïve monarchism declined on the eve of the Russian Revolution because the Tsarist regime could no longer draw on it. How long will Putin's regime be able to maintain its own naïve monarchist myths?